---
---
Top Arctic World Expeditions
Recommended video
Outstanding News
Travel Map
IPGA Association
Specialists in Iceland
Facebook
Trips in the area: Norway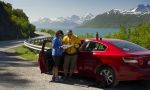 Discover the Midnight sun of Norway and reach the northernmost European point by car
Driving our own car, we could get a taste of Norway and its fjords, travel around many small villages and charming fishing villages.
Lofoten islands have of great natural beauty and cristal clear water, which are waiting for us!
We will reach the northernmost point of Europe: the North Cape and made a cruise from Hammerfest to Trømso, "the capital of the Arctic". This city is rich in culture and history and surrounded by nature, mountains, islands and fjords.