---
---
Top Arctic World Expeditions
Recommended video
Outstanding News
Travel Map
IPGA Association
Specialists in Iceland
Facebook
Trips Sports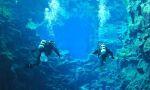 Discover and explore the Arctic waters of Iceland
If you are a diving enthusiast, this is your trip! Iceland offers dives in unique sites, including diving in the crystal clear waters of Silfra, a fissure situated in the heart of Thingvellir National Park, located on top of the separation between Europe and America. It is rated as one of the World's top ten dives.
In Akureyri, the North capital of Iceland, we will become dry suit divers. A dry suit seals us off from the water and keeps us comfortable during our dives in Iceland. We will dive a shipwreck and explore Arnarnesstrýtur, a cluster of small cones with a lot of marine life around.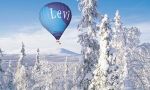 Alpine skiing at the Arctic Circle
Alpine skiing in the best resort of Lapland (Finland), home of the Ski World Cup 2004 and 2006. Few know that at 170 kilometers north of the Arctic Circle is a lonely mountain called Levi. From its summit, you can see what may be the best view in Finnish Lapland: a vast snowy plain dotted with frozen lakes and boreal forest that are lost on the horizon. And in this isolated mountain are the Levi ski resort.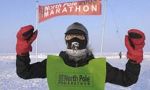 Mythical marathon around the 90 degrees north latitude
Live a unique experience running the 42.195 kilometers in the world's northernmost point. Here we have the opportunity to become one of the few people who have run a marathon on the ice sea at the North Pole. Million square kilometers of sea ice will be our running track. And just a couple of meters below the ice on which we run lies a 4,000 meters deep ocean.